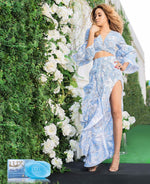 The Lux by MAJU campaign – When beauty meets Fashion
In line with the recent collaboration, Lux, the beauty soap brand from Unilever Nigeria Plc and renowned fashion brand Maju follow up on their latest campaign with the Lux by Maju Beauty Edit which features beauty influencers.
The Lux by Maju Campaign is inspired by the five variants of the Lux beauty soap range. Each soap variant is inspired by a personality which the 5 influencers we have chosen embody. The ladies have made great strides in the beauty industry and their impeccable sense of style hasn't gone unnoticed in the fashion world.
Beauty blogger Ezinne Alfa of @beautyinlagos personalises 'Wake me up' personality. She is your down to earth best friend in your head who always gives the inside scoop on where to get the best beauty services & products in Nigeria.
Lifestyle blogger and beauty entrepreneur Kehinde Smith of @myextensionz_ng covers the 'Soft Caress' personality. She is a bold and daring entrepreneur who isn't afraid to go after what she wants.
Beauty influencer and Youtuber Dimma Umeh of @DimmaUmeh is our 'Soft Touch' personality. She is the most pleasant person you'd meet, reserved and shy, but theres a very honest and open side to her which comes out in her videos and tutorials online.
Make up artist and lifestyle blogger Dodos Uvieghara of @iamdodos is our 'velvet touch' personality. She is very fashionable, cheerful and loves the finer things in life. She is a woman who loves to be pampered and will smile while at it.
Beauty Queen turned Aviator Powede Lawrence is our 'Shake me up' personality. She is fun loving, very adventurous and lives her life fearlessly!
The Lux MAJU edit will be available for purchase on the 10th of September, 2017 at Tickle Bay, Lekki, from 2pm.
For more information, visit
www.ShopMaju.com
Credits
Photographer: Anny Robert @anny_robert
Muses: Kehinde Smith (@kehinde_smith), Dodos Uvieghara (@iamdodos), Ezinne Alfa (@beautyinlagos), Powede Lawrence (@powedelawrence), Dimma Umeh (@dimmaumeh)
Make Up: Dartiste by Dodos @dbdbeautystudio
Styling: The Moashy Company @moashystyling
Creative & Art Direction: Anny Robert @anny_robert & Victor Kalu for @greywoulfe
Campaign strategist and PR: Style Me Africa @smaonline.co
Video: Grey Woulfe @greywoulfe
Brands: @ShopMaju & @HouseofLuxNG
Location: Tickle Bay Lekki Lagos @ticklebay